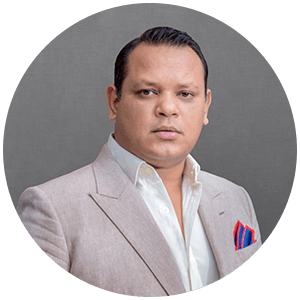 A B M HAMIDUL MISHBAH
Barrister-at-Law, of Lincoln's Inn Advocate, Supreme Court of Bangladesh LL. B (Hons.), University of Wolverhampton, UK Post Graduate Diploma in Law, University of Northumbria, UK.
Mishbah is a corporate lawyer practicing at the Supreme Court of Bangladesh, and is the Managing Partner of Old Bailey Chambers, Dhaka. He obtained his LL.B (Hons) and Post Graduate Degree in Law from the United Kingdom, and was called to the Bar of England and Wales from Lincoln's Inn in March 2005. Mishbah later on pursued an LL.M Degree in Competition Law at the Kings College, London.
Mishbah specializes in the areas of Intellectual Property, IoT & Big Data, Technology Transfer & Franchise, Media & Entertainment and Defamation, IT & Telecommunication, Competition (Antitrust), and International Commercial law.
Mishbah's recent notable engagements include his contribution as member in the drafting committee of the Copyright (Amendment) Act, 2017, assisting Gilead Sciences and Pfizer Inc. to enforce their IP rights in life saving drugs in Bangladesh, and assisted ICT Division to adopt appropriate provisions within the Draft Digital Security Act, 2016 for data protection.
In 2015 Mishbah assisted Microsoft Bangladesh Limited to enforce its IP rights and successfully claimed damages for infringement, represented Samsung India Electronics Limited in a litigation to prohibit parallel imports, sell and distribution of unauthorized Samsung branded goods, and advised to evaluate the possible competition impact in the e-commerce market resulting from the merger of two leading e-commerce companies in Bangladesh.
Mishbah assisted the music fraternity of Bangladesh to establish the first ever Collective Management Organization in Bangladesh in 2014. Mishbah has also served as an IPR Consultant to the Access to Information Program, Prime Minister's Office, Bangladesh, and currently serves as a Member to the Anti Piracy Taskforce functioning under the Ministry of Cultural Affairs.
In 2011 Mishbah founded Bangladesh Intellectual Property Forum (www.bcipf.org) – a not-for-profit organization solely focuses on IPR awareness and capacity building, which runs a legal aid centre called "IP Plus Law Clinic" that provides pro-bono legal support to start- up entrepreneurs, software developers and creative fraternity.
For his voluntary contribution in bringing positive changes within the IPR regime in Bangladesh, Mishbah was awarded the "Ten Outstanding Young Persons of Bangladesh, 2015 Award" by the Junior Chambers International (JCI).